If, like me, you have considered using a no-code website and app builders for one of your projects, one of the first questions that may come up for you is whether to use Bubble or Webflow? For the last couple of months, I have spent some time working with these two platforms to find the answer for myself, and I think it's time to summarize my learnings in this post.
First and foremost, let's start with two simple questions.
What is Webflow?
Webflow is a no-code website builder mainly focused on giving you complete control over all aspects of the web design process. Webflow also has a CMS or content management system. This means it helps you manage your website's content, like articles for a blog or products for a store. The CMS allows you to automatically create different pages for your website just by adding more content without doing any additional work of designing another page. Webflow's overall goal is to eliminate the disconnect between prototyping and building functional websites, all without touching a single line of code.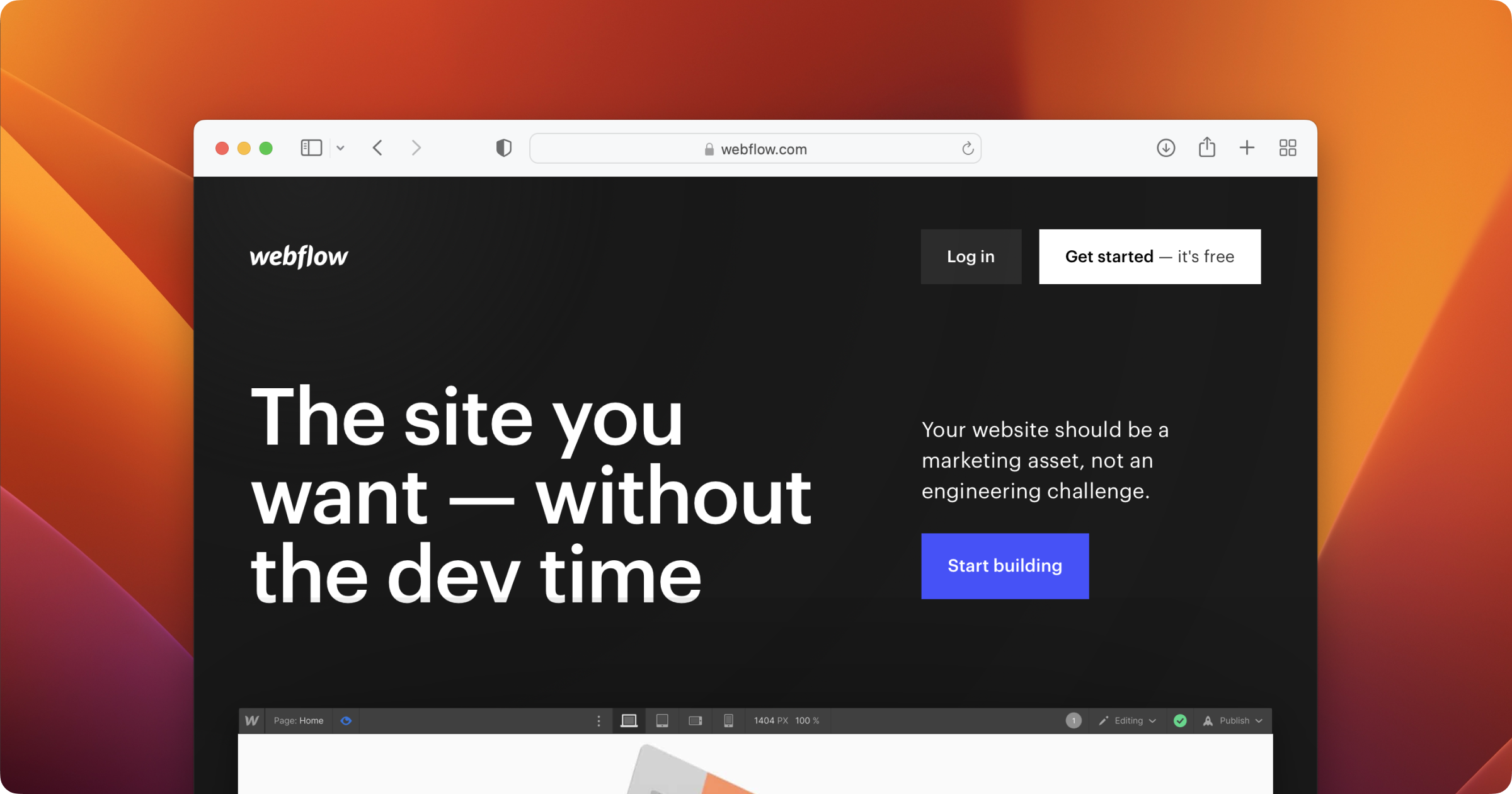 What is Bubble?
Bubble, similar to Webflow, is another no-code website builder that allows you to use a drag and drop and a point and click web editor to create fully functional websites. In addition, Bubble provides an extensible plugin platform that allows you to install powerful plugins and add extra functionality to your project via a single click. On top of this, Bubble will enable you to create sophisticated front-end and back-end workflows to take your website to another level by adding custom functionality.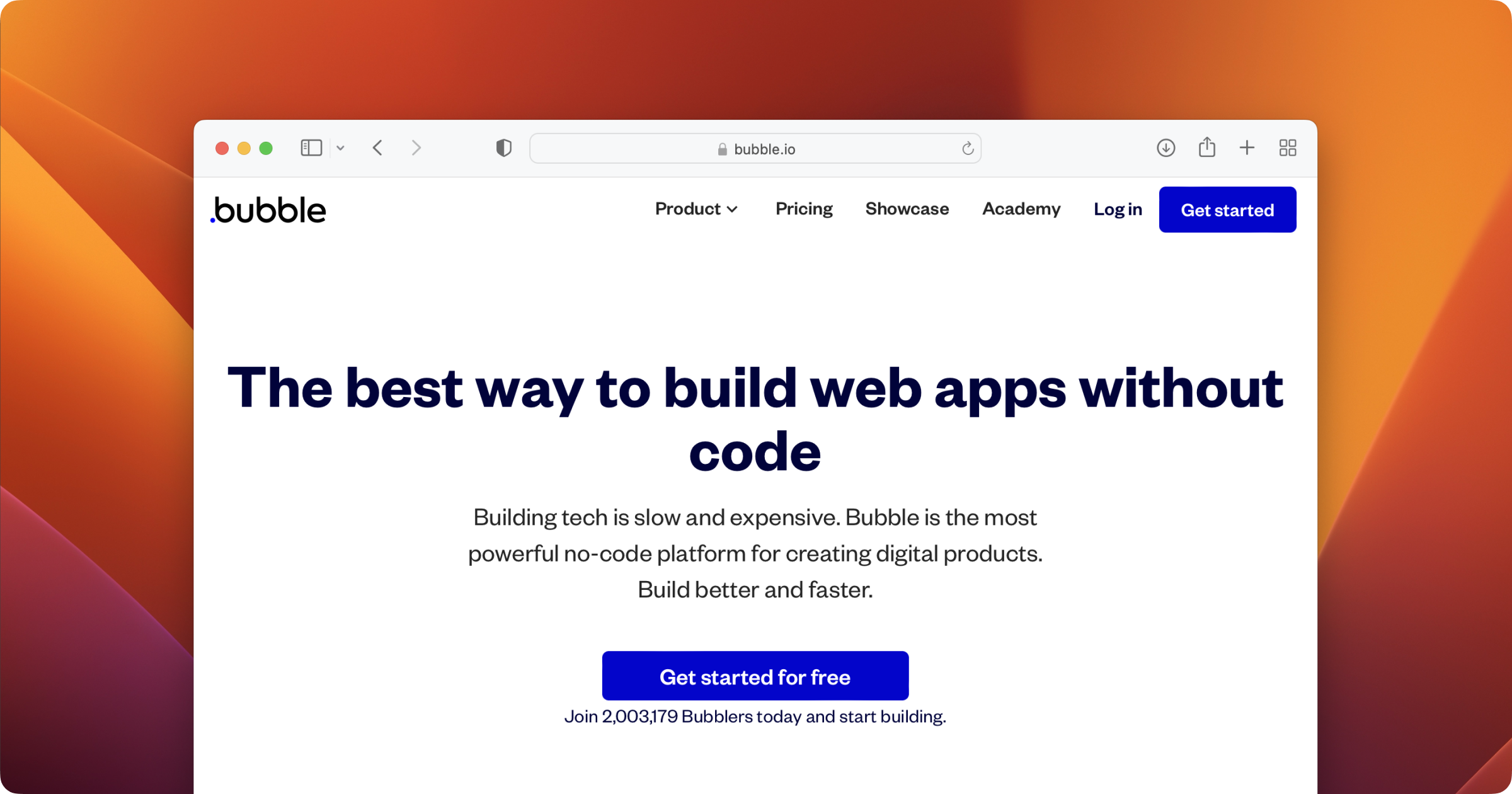 So far, you may be thinking that these two tools are incredibly similar, which would make it very difficult to choose one over the other. However, It is important to keep in mind that even though Webflow and Bubble are no-code website builders, they are not necessarily competitors. Instead, depending on your project idea and requirements, Bubble and Webflow could offer an entirely different set of functionality and features that would make one more suitable than the other.
So what is the difference?
Let's start by thinking of a potential project idea you are thinking of building. This would make the decision-making process much easier and help you better understand the core differences between these two services.
Now that you have your project idea in mind, let's break it down into smaller topics that we have to consider before going with Webflow or Bubble.
The Design
The most important topic that we have to consider is the design. After all, we are building a website/web app, and the first thing that anyone is going to see and experience is how your website looks and feels. Thankfully, we can refer to their marketing material to answer this question.
Webflow: "scale beautiful websites in a completely visual canvas."
Bubble: "powerful no-code platform for creating digital products."
As you can see, Webflow is specifically focused on giving the user fine-grain control over the design to create pixel-perfect user interfaces. This is not to say that Bubble doesn't give you the ability to design some gorgeous websites, but rather the fact that the design is your number one priority for your idea, and it has to be pixel perfect, then Webflow is the clear winner for you.
Working with Data
Time to talk about Data as every website and web app is a collection of data in one way or another. Webflow and Bubble approach this quite differently, and it is crucial to consider this before going with either one of the services.
The rule of thumb is that if you're dealing with a lot of data, Bubble is a better choice for you than Webflow.
Bubble provides powerful workflows that are highly flexible and allow you to customize them in any way that would suit your project. In addition, you can create front-end and back-end workflows and even schedule actions for the future.
In addition, Bubble provides a powerful visual relational database, user management and authentication, and security out of the box, making it perfect for creating complex scenarios without touching a single line of code.
It is also important to know that Webflow provides a powerful CMS, standing for Content Management System, making it possible to easily create blogs, dynamic, and marketing pages for your product.
If you have a data-intensive project that is more than just a landing page or a blog, Bubble is the clear winner.
Plugins and Integrations
Another critical point to consider is the ability to add plugins and integrations to other services such as Zapier, Airtable, etc.
Both Webflow and Bubble provide a set of plugins that you can easily install and integrate with your website. However, the functionality that you get from the Webflow integrations is significantly limited compared to what is possible with Bubble. This is mainly because Bubble provides very powerful workflows, making it easier for plugins to provide additional functionality.
For example, here at LogSnag, we provide an official Bubble integration for anyone to track user behavior and important events across their website easily. Bubble integrations' simple and intuitive design makes it easy to install our plugin and track user sign-ups, payments, transactions, or anything else that you want to keep an eye on.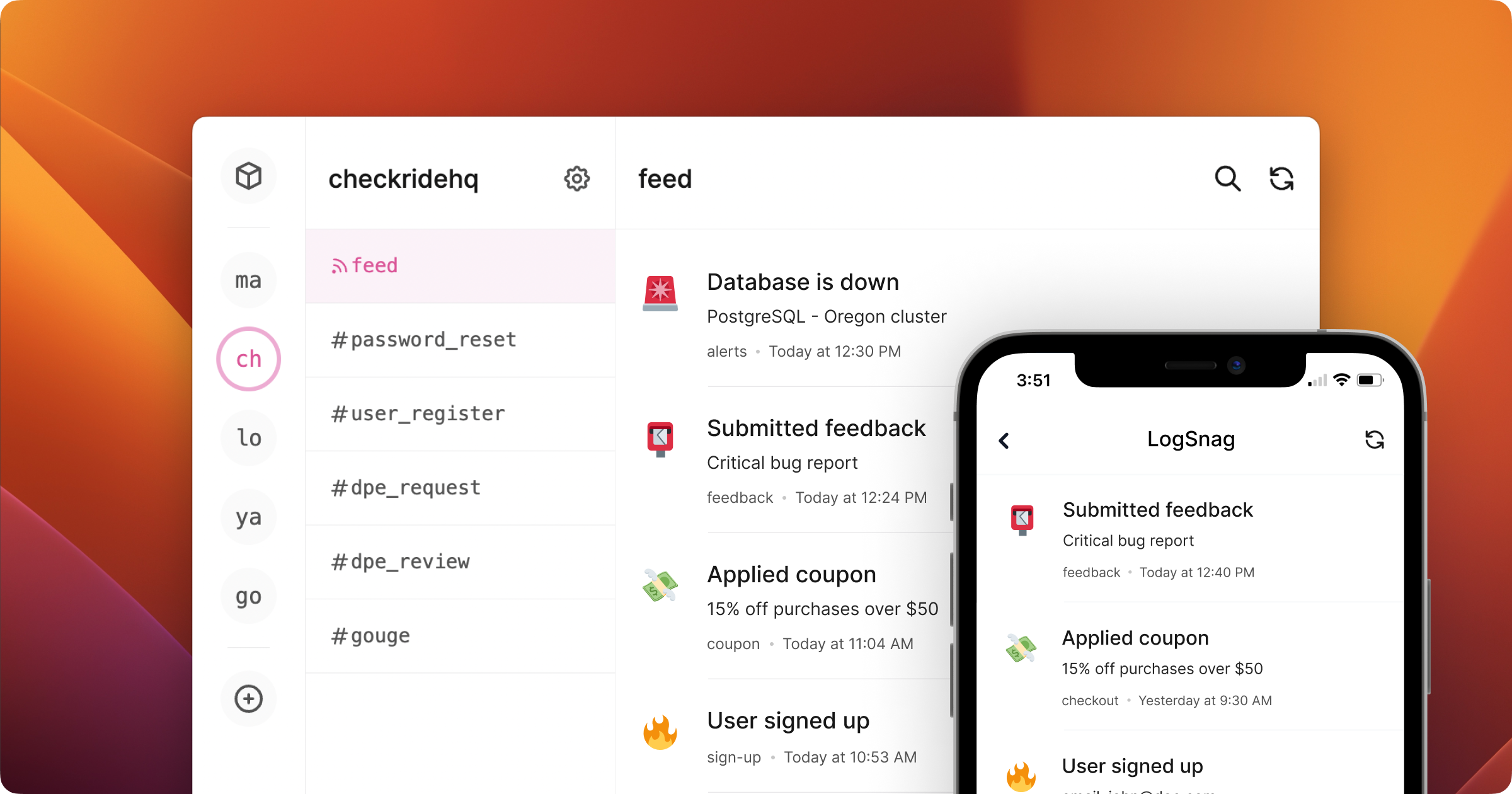 There are also tons of third-party plugins available for Bubble, covering almost all your needs.
In short, if you want to integrate your project with other services, both Webflow and Bubble offer integration plugins, while Bubble has a more advanced plugin eco-system that plays well with their workflows.
The Learning Curve
Next, let's talk about the learning curve. In my personal opinion, both Webflow and Bubble provide a very intuitive user interface that makes it very easy to start right away and get to the building.
There are tons of official and third-party tutorials, courses, and blog posts available for each platform, making learning about them very easy. For example, Webflow has outstanding in-house education content known as the Webflow University.
It is important to keep in mind that with the additional powerful functionality of Bubble comes a more difficult learning curve. Again, based on my experience, it takes a little extra time to understand how to work with Bubble's workflows, user management, and database.
However, don't let this stop you from giving it a go! Trust me, after a couple of hours, you will get a decent understanding of how things work on both platforms.
Pricing Plans
Last but not least, let's talk about their pricing. After all, no matter how good a service is, its pricing could be a deal-breaker, specifically when you are just starting.
Thankfully, both services provide a free tier that allows us to create a test project on either platform without committing or paying anything before making our decision.
However, once you have hit the limits of the free plan and decide to upgrade, here is the pricing breakdown for each service.
Webflow Pricing Plans
Free: Always free
Basic: $19/month or $12 when billed annually
CMS: $20/month or $16 when billed annually
Business: $45/mo or $36 when billed annually
Visit Webflow's pricing page for more information
Bubble Pricing Plans
Free: Always free
Personal: $29/month or $25 when billed annually
Professional: $129/month or $115 when billed annually
Production: $529/month or $475 when billed annually
Visit Bubble's pricing page for more information
I believe that both services provide a decent range of pricing that would cover most use cases, whether you are building a personal project or a multi-million dollar product.
However, this part is highly dependent on your product, so I will leave it up to you to decide.
---
Can I use both Webflow and Bubble?
A valid and very important question that you may be asking me right now is whether you can use both services, and the answer to that is an absolute yes!
I know a lot of folks who are using both Webflow and Bubble for a single project as they offer complementary features that solve different needs.
A typical pattern is to use Webflow for your marketing material and Bubble for your actual application. Let's walk through an example.
Let's say you are creating a SaaS, also known as software as a service, and it requires you to create a functional and data-intensive application.
Let's walk through the topics that we discussed earlier in this article. You may decide to use Bubble for this application, but what if you also want a beautiful marketing and pricing page and a blog for your marketing content?
We can use Webflow for our marketing content, pricing page, and blog and still use Bubble for our main application! Pretty much taking the best of both worlds to create a fantastic product!
This setup would require a little, otherwise easy, DNS work. Therefore, I am considering writing a tutorial on how you can create this setup with Bubble and Webflow or a combination of two or more other services.
Conclusion
I hope this article has helped give you some additional insight into Bubble and Webflow and has made it easier for you to decide which service to go with.
The key takeaway is that you should go with Webflow for design-first, lightweight websites and landing pages and go with Bubble for complex, data-oriented web applications.